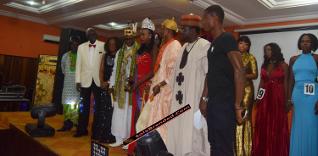 MBE Improver Awards is incorporated into MBE International Scholarship Pageant to acknowledge, celebrate and confer excellence on individuals who devoted their all in promoting human welfare and advancing reforms in their specific fields, not forgetting our cultural heritage, and what we as humans stand for.

SPECIAL AWARDS ARE NOT BY VOTING.
BEST HUMAN RIGHTS ACTIVIST
John Odafe Asiemo (Aka Daddy Showkey)
BEST COMMUNITY LEADER
Ade Arogundade
BEST DEEJAY
DJ Nathan Tune
BEST PROMOTER OF CULTURE
Tony Airhenbuwa
BEST PROMOTER OF TOURISM
Pelu Awofeso
BEST EVENTS SPONSOR
Aura Bar & Lounge
BEST PHOTOGRAPHER
Mayor Reloaded
BEST ENTERTAINER
Panache Global Entertainment
BEST JOURNALIST
Olumide Odedeji (aka Olugbedu)
BEST MODEL
Uloaku Anaba Philip
BEST INVESTOR IN PEOPLE
Hon. Adewale Adeogun
MBE Award of Excellence
Club DNA
Prof. Bankole Okuwa
Princess Folashade Adeyemi
Opherbam
Ola Ogunkoya
Prince Olaoluwa Benson Adegbola
DJ-Ike Naijamostwanted
Nat Biney JP
MBE Heart of Gold Award
Dele Ajaja
Moji Solar-Percy
Ahmad Gitteh
Corporate Award
Alhaji Lamin Manga
Volunteer Recognition Award
Abieyuwa Joy Orowere
Outstanding Leadership Award
Hon. Eng. Ajibola Famurewa
Royal Father
HRH Baale Dr. Kayode Israel Okunlola (JP)

© Copyright 2014. Miss Black Europe International Scholarship Pageant. All Rights Reserved.