April 21, 2014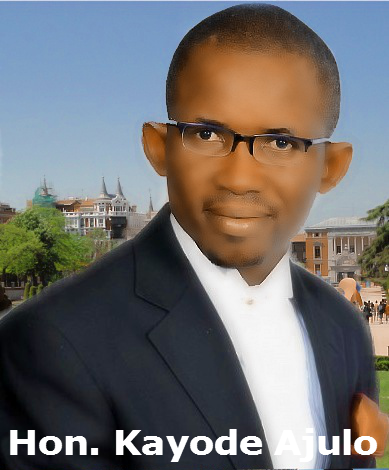 Kayode Ajulo, Barrister and Solicitor of Supreme Court of Nigeria, unionist, Head of the governing board at Ondo State Radiovision Corporation, civil right activist, Principal Partner, Kayode Ajulo & Co. Castle of Law, CEO, Egalitarian Mission Africa, and Senatorial Candidate, Labour Party of Nigeria. Born in Ibadan, Nigeria, attended Aquinas College Akure, studied law at University of Jos, Nigeria (LL.B Hons) 1999. Presently a doctorate (PhD) student at Middlesex University, London in Corporate Social Responsibility gives an insight into his likes and dislikes:

Favourite restaurant? Barcelos, South Africa.
Favourite tipple? Cognac mixed with Lucozade boost.
How do you like to unwind? At the beach with my phone on silence.
Ideal celebrity guest? Martin Luther King Jnr.
Worst habbit? Acting on spur.
Ideal car? Benz.
Ideal Home? A country home with a large space.
Last amazing holiday? Barry, Wales, UK.
When was the last time you went shopping and where? St. David Arcade, South Wales.
Most memorable occasion? Surviving abduction after 4-day-ordeal.
First love? Somewhere.
First business venture? Gardening.
Business idol? President Barrack Obama.
Who inspired you at the beginning of your career? Justice Kayode Eso.
What was your best opportunity? Being sired by both parents.
What's love to you? Happiness irrespective of the situation.
Achievement(s)? Being a blessing to others.
Tropical or Arctic weather? Tropical.
Describe yourself in three words? Discerning, edgy and candid.
Best day of the week? Tuesday.
Posted by Sola Opesan Brown.