*Beauty & Fashion * Protocol & Security *Event Glamour *Personal Leadership *Intercultural Tourism
When everything fails, what we are left with is culture. Culture is so important in each individual's life and living since is the way which human beings communicate their thoughts and values, and fulfil their needs. Culture dictates how people should dress; it determines what clothing people wear for a business or casual meeting; to be socially accepted people dress appropriately for different occasions. The rules of social life helps in understanding others' culture and respecting it, this allows us to predict why some people behave or dress in certain form; respecting social rules of life promotes harmony and order in a society. To avoid cultural conflict we must respect diversity and openness; this is where Intercultural talks are very essential, which involves touring, at times you are the host and at times you are the guest.
Contact Us: Click on the link below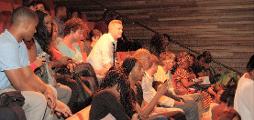 Use reservation form below:
© Copyright 2014. Miss Black Europe International Pageant. All Rights Reserved.